48 hours in Budapest: What to see & where to shop
Tania Leslau

48 hours in Budapest: Discover the Hungarian capital's hidden gems from hotels to vintage shops and galleries to design stores. Relax at the Hard Rock Hotel Budapest and see the sights including Buda Castle and Dohány Street Synagogue.

Budapest – a city famed for its stunning architecture, rich history, local delicacies and of course, €2 pints. Yet, despite offering up a long list of spectacular tourist spots to see, the Hungarian metropolis is home to a series of hidden gems ranging from vintage shops to design galleries. So, if you find yourself in the popular city for 48 hours, brace yourself for a jam-packed getaway full of surprises.
LOOK: Budapest with kids: how to explore the Hungarian capital with children
What better way to shake off those January blues than to escape to the city and feast upon goulash, meander the vibrant cobbled streets or immerse yourself in Hungarian culture? An affordable yet enlightening holiday is just around the corner, so pack your bags, wrap up warm and discover what brilliant Budapest has in store.
Where to stay
Hard Rock Hotel, Budapest
If you're after a luxurious yet failproof stay, then the Hard Rock Hotel is the place for you. Step into the gleaming premises which boast marble floors, teal blue velvet sofas, neon lights bedecking art deco walls and sprawling raspberry pink rugs – not to mention the very thing that grants the hotel its iconic reputation, an array of musical memorabilia. The staff are impossibly friendly and willing to help out with any queries at all hours, in addition to happily sharing information about the Hard Rock's glittering history.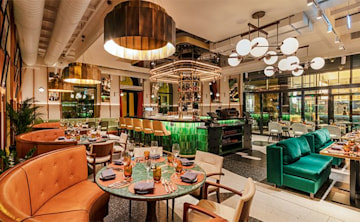 Treat yourself to a stiff drink or cream and candy sprinkled hot chocolate at the emerald green bar that sits by the hotel entrance, complete with towering stools for full glamrock effect, or peruse the framed archives which showcase pieces belonging to Elton John, Katy Perry, Nicki Minaj and many more.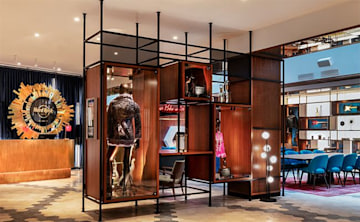 There's so much to do and see in the Hungarian capital, yet the intense comfort of the rooms makes rolling out of bed seem near impossible. From the comfort of your pristine and spacious room, gaze out onto the streets of the idyllic city, enjoy a joyously large bed (couples – no need to squabble over sides here), submerge yourself into the soothing charcoal-walled showers or take advantage of the high tech features the room possesses.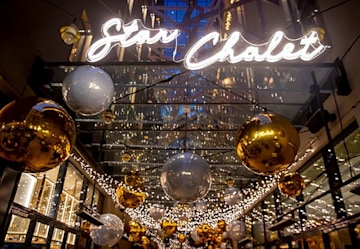 Fancy a snug winter soirée without having to go too far? Immerse yourself in the hotel's new dining experience at the Star Chalet which will transport guests and visitors to a winter wonderland in the heart of the city from 25th November 2022 until 15th February 2023.
18 luxe celebrity holiday homes that have to be seen to be believed
The Star Chalet is a music-inspired winter experience, which will see the covered outdoor Passage section of the 5-star hotel transformed into a winter wonderland with cosy seating areas, twinkling lights, a roaring outdoor fireplace and show-stopping festive decorations – the perfect spot for hotel guests and locals to enjoy a cosy winter night in the centre of the busy capital.
Dive into a selection of winter-themed cocktails and coffees including Butter Beer and Orange-Ginger Flat White, as well as festive sweet treats such as warm brownie pots with caramel sauce and Hungarian Style sweet chestnuts.
What to do
Visit Buda Castle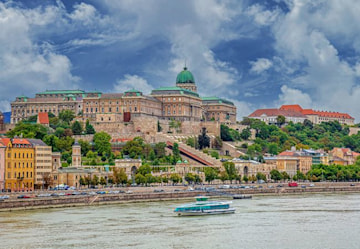 Budapest was once two cities, with Buda sitting left of the river Danube and Pest on the right. Cross the bridge via foot or bus and head to the funicular for a swift yet scene ride up to the heart of the old town and Buda Castle.
The best luggage for you to invest in, for your staycation or summer holiday
While in Buda, a trip to the National Gallery to see the Vaszary Rediscovered exhibition is a must, in addition to grabbing a hot chocolate right outside the building. Gaze at the church architecture, pop into the authentic Hungarian embroidery shops that pepper the streets and be sure to snap a load of photos of the exquisitely coloured buildings.
Dohány Street Synagogue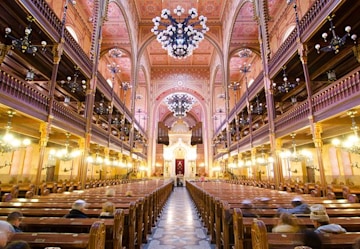 If you're hoping to pack in the culture during your stay, we highly recommend a visit to the largest European Synagogue in Europe on Dohány Street. Dohány Street Synagogue is one of the most beautiful buildings in the metropolis and was built between 1854-59 by the Jewish community of Pest.
The Dohány Street Synagogue consists of the Great Synagogue, the Heroes' Temple, the graveyard, the Memorial, and the Jewish Museum – all of which offer a didactic yet breathtaking experience.
Simply stroll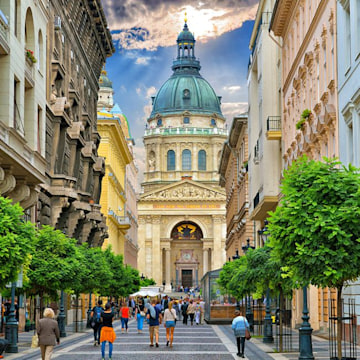 Budapest is home to the most exquisite architecture, therefore a simple stroll is a must when visiting the city. Meander around the quietly bustling streets and marvel at the vibrant tangerine, blossom pink, pistachio and sky-blue walls that form facades for houses, shops and apartments.
The city also felt very safe at night for solo strolling or in a small group in case an after dark wander is on the cards.
Ruin Bars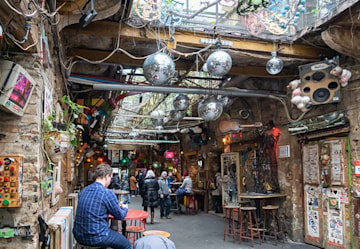 Party guys and girls, we've got you covered. Head out to Doboz Ruin Bar after dark for a cheap and cheerful drink in a dilapidated two-storey courtyard converted into a club. Venture up the secret passageways and narrow staircases, explore the matrix of rooms and marvel at the bescribbled walls which can keep you occupied for hours.
Where to shop
Vintage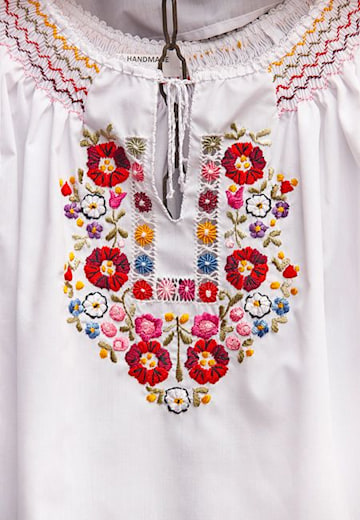 Thrift aficionados you are in for a treat. Ludovika Vintage on Rumbach Sebestyén is a true game-changer. This treasure chest of affordable vintage gems was a real highlight of the trip. Browse the perfectly curated rails of vinyl trench coats, seventies shearling jackets, silk scarves, nineties skirts, Victorian blouses and retro knits – not to mention the adorable beaded jewels and leather accessories up for offer.
MORE: 5 must-see fashion exhibitions to attend in London
Bring a full wallet and empty hand luggage for the journey home, as you'll certainly need all the space you can fill. While you're there, be sure to head down the road to Retrock Designer Vintage Store for some locally crafted kitschy artworks and excellent menswear finds.
Embroidery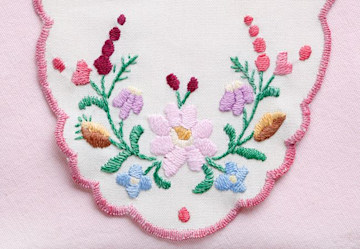 New obsession unlocked – Hungarian embroidery. Think cottagecore with a historical twist. There are two main styles of Hungarian embroidery Kalocsa, which boasts flowers and eyelet work, and Matyó, a thicker form of needlework saturated with bold colours and florals. Prices range depending on whether you'd like to buy clothing, tableware or even a simple memento – so there is always something handmade to bring home for loved ones.
Design galleries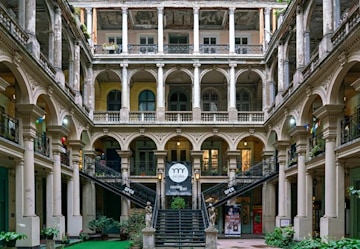 Who knew Budapest was a design hub? Treat yourself to some modernist home decor and invest in forever pieces that are sure to spark envy in all your friends. From abstractly painted vases to cutting-edge lighting, small yet modern leather goods to minimalist prints, there's something for everyone in Budapest's design stores. We recommend musing around MONO art & design, Magma and Rododendron Art & Design Shop.
To book The Hard Rock Hotel Budapest, visit hardrockhotels.com/budapest/.

link