Imagine a school concert hosted by Bela Lugosi: Budapest Festival Orchestra and Ivan Fischer, at the Proms, reviewed
'Audience Choice' was the promise at the Budapest Festival Orchestra's Sunday matinee Prom, and come on – who could resist the chance to treat one of the world's great orchestras like a colossal jukebox? Actually, this wasn't the latest wheeze of some clueless BBC head of music: it's a favourite party trick of the BFO and its conductor Ivan Fischer. The audience has a 'menu' of some 275 individual works and symphonic movements; they vote for six of them and the BFO plays their selection, unrehearsed, on the spot. Orchestral musicians never do anything unrehearsed. They hate it. But the BFO does it anyway, because they're the best, and they know they are.
So the full orchestra basically winged it before our ears. In between, Fischer oversaw the voting in his deadpan Magyar growl. Imagine a school concert hosted by Bela Lugosi: 'Please, make this a beautiful programme,' he implored, as he stuck his hand down a tuba and drew out the numbers of three seats whose occupants would each get to choose a work. Fischer put the results to a show of hands. 'Thank you. That is very…long,' he observed as the Andante of Beethoven's Pastoral symphony won by acclamation. Off scuttled the orchestra's librarian to fetch the sheet music; meanwhile mini-ensembles from the BFO – a violin duo, a klezmer band, a vocal consort (they sang Monteverdi) – noodled away while we waited. Later, Fischer pitched a beachball into the arena: the Promenader who caught it got to choose a piece.
With great power comes great responsibility. As a critic, my heart is black as tar, so my instinct was to pick the gnarliest available options – the Sacrificial Dance from Le Sacre du Printemps, Hans Krasa's Overture for small orchestra – to see if I could make them crash. There'd clearly been some anxiety at the BBC end. Radio 3 had held a preliminary poll to shortlist an opening number and the listeners had voted for a vocal piece by Fanny Mendelssohn. Fancy that! The Proms crowd hadn't got the memo: they promptly voted it down in favour of Glinka's Ruslan and Ludmila, before proceeding to cheer loudly for numbers by Tchaikovsky (the Fourth Symphony), Beethoven, Dvorak and Brahms (a Hungarian Dance). All those hackneyed 19th-century masters with whom we are all – we're told – so very, very bored. Again: fancy that.
Most popular
Francis Pike

The forgotten end of the second world war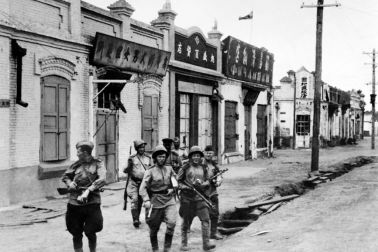 Anyhow, we voted and the BFO played; and if part of the exercise was pure swagger – look what we can do without really trying! – there were some musical insights to be had. Not so much because of what was missing, though even with an orchestra and conductor as tight as Fischer and the BFO, rehearsal is clearly necessary. There were unbalanced textures, and climactic moments that didn't quite coalesce with full force. More interesting was what came through regardless: the plump, tactile horn tone; the martial bravura of timpanist Roland Denes (it's amazing how much the sound of an orchestra is defined by the personal style of its timpanist), and violinists who instinctively dialled down their vibrato in the Beethoven.
Above all, there was the way woodwinds and strings alike articulated their melodies as if they were actors speaking lines of verse; expressive meaning and sonic beauty merging into one. If there's an irreducible minimum quality to the BFO sound this, presumably, was it: and sure enough, there it was, glowing and shapely in the evening's Prom. Fischer conducted Bartok's Third Piano Concerto with a restrained but eloquent Andras Schiff, followed by a noble, sunlit Eroica symphony that seemed to surge and stride on seven-league boots. First came Ligeti's Mysteries of the Macabre – with helter-skelter woodwinds and paper-scrunching percussionists chasing hyperactive soprano Anna-Lena Elbert and her tight, bright arc-light of a voice. Finally, as an encore, the whole orchestra put down their instruments and sang (sweetly, but by no means diffidently) the Fanny Mendelssohn partsong that had lost out earlier in the day. Just because they can.
Opera Holland Park has taken to closing its seasons with a G&S production from John Savournin's Charles Court Opera, and this year's was Ruddigore – the one that lost out at the Victorian box office because, it's said, respectable ladies couldn't bring themselves to utter its name. Savournin's production was bright, fast and funny, with playful choreography, whip-smart choral singing and a fresh-voiced cast with real comic chops. That's necessary at OHP, where they're still stuck with a Covid-era temporary stage that makes every opera resemble a glorified concert performance. Regardless, Heather Lowe (as Mad Margaret) is just terrific in this rep, Matthew Kellett (Robin) exuded puppyish fun and Savournin (as Sir Despard Murgatroyd) could have been born twirling his moustache and swirling his cape. The man's a phenomenon. Two rows of Chelsea Pensioners were in the audience: there's hope for old England yet.
link