Senior Living: A 'pastry stroll' around Budapest
Confections abound, from Kremes to the 'Gerbeaud slice'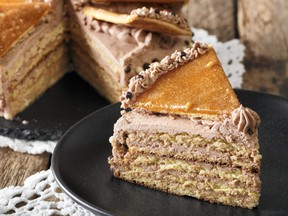 Article content
Once during a trip, my roommate made an eye-opening remark. "Alice has a sweet tooth," she said. I had never put it into words, but it is true — I do love sweets. That's why every time I visit Europe and my native land, Hungary, I have a great time admiring and enjoying sweet selections.
Article content
I could sing the praises of France's madeleines or Vienna's Sachertorte or a flan in Mexico — I remember fondly an apricot-laden square I once enjoyed in Salzburg, Austria — but I admit to being partial to the pastry of my native city, Hungary's capital, Budapest.
So let us take a "pastry stroll" around Budapest. Our little stroll must start and end in the Hungarian capital's most famous coffee shop, Café Gerbeaud. Located in the centre of downtown Pest — Budapest is actually split into two cities, Buda and Pest, on either side of the Danube — Gerbeaud is easy to find in Vörösmarty Square at the end of the chic Váci shopping street.
On one of my visits to my hometown, I picked up a lovely little booklet outlining the "Gerbeaud legend." While the present shop was established in 1884 by Swiss-born Emil Gerbeaud, its origins go back even further to the original owner, Hungarian confectioner Henrik Kugler, who established his shop here in 1870.
Article content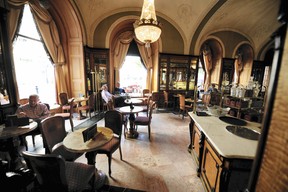 Weathering the centuries, the shop is still somewhat frozen in time with its marble-topped tables and crystal chandeliers twinkling overhead. Since its opening, the elegant interior in winter and the terrace in summer were the places "to see and be seen." Enjoying the ambience and pastries over the years were guests such as Empress-Queen Elizabeth (Sisi) of Austria-Hungary, the composer Franz Liszt, the statesman Ferenc Deák, British royalty and Hollywood celebrities.
Of course, what attracts people to this day are Gerbeaud's masterful creations, the bonbons, mignons (small cakes), the cakes, the ice cream parfaits. I have visited Gerbeaud several times over the years, admiring the displays on the graceful curly-ash counters.
Article content
Your first choice at Gerbeaud could be the famous "Gerbeaud slice," a layered almond-flavoured cake filled and iced with thick chocolate cream. But chocolate also stars in nougat slices, chocolate balls and baskets, and chocolate grillage-topped squares.
If that weren't enough, the cake carousel tempts with more choices. Here we find the famous Dobos torta, a many-layered cake filled with chocolate cream and topped with a caramelized sugar glaze. Other offerings might include the rum-sprinkled punch cake, fruit cream cakes or the Lúdláb cake, filled with heaps of thick cherry-clotted chocolate. These and more are examples of the pastry chef's art.
Having sampled Gerbeaud's delicacies, you might want to move on and explore more pastry offerings. Most of Budapest's big hotels have coffee shops with excellent pastry selections. I have often stood entranced by pastry and marzipan displays, as if in a museum, admiring the skill and artistry of its creators.
Article content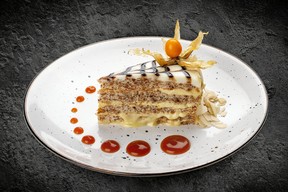 Visiting another very special pastry spot, one must cross the Danube on one of the graceful bridges — and cross a few centuries — arriving on the Buda side where the Ruszwurm Confectionery is located in the historic Castle District. This shop is famous for its cream-filled Kremes (mille feuilles), one of my all-time favourites. But there are dozens more pastry shops in both Buda and Pest, and each has its loyal following. I hope they survived COVID and are once again functioning.
Though not a pastry shop, one of Budapest's finest restaurants, Gundel Cafe Patisserie Restaurant, located in the City Park, features the famous Gundel pancakes, filled with rum-soaked ground walnuts and raisins, and immersed in a thick chocolate sauce.
Or, to finish your meal, you could try a "retes" (strudel) with your choice of apple, cherry, curd cheese, walnut, poppy or cabbage filling. Another favourite of mine is chestnut purée, served on a bed of whipped cream.
I hope you and I have not gained too much weight on our pastry tour. If so, we can always start dieting tomorrow!
— Alice Lukacs writes the Life in the 90s column
link